Home
Talk

2
5pages on
this wiki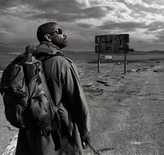 The Book of Eli
Edit
Please refrain from stating your opinions as if they were fact.
Book of Eli is the latest in a slew of post-apocalyptic movies. The world is an ungoverned, desert landfill. Murder, cannibalism, rape, and plunder are commonplace. Denzel Washington is Eli, a man simply "headed West." Why? He won't say. Eli saunters through the desert, stopping only when forced (to recharge his iPod, get water, or defend himself). Fortunately he is a heavily armed, ruthlessly efficient killer. Eli reads every day. He stops in a town run by the tyannical, and inexplainably powerful Carnegie (Gary Oldman). Carnegie is desperately seeking a book – the very same book Eli carries and reads religiously.
Washington's action sequences have no stand-ins, and are done in single takes from multiple angles (to prepare for the film he trained with several experts, including Dan Inosanto – Bruce Lee's protégé and current authority on Jeet Kune Do). Mila Kunis is surprising as the female tag-along.
The video game feel comes from its writer, Gary "Gaz" Whitta. Gaz is the former editor-in-chief for PC Gamer magazine, and helped write Duke Nukem Forever, Prey, and Gears of War. It's an interesting departure from films adapted from video games. That IGN has more video interviews for this film than others speaks to this difference. To date, Gears of War has sold 6.02 million units ($10 million goes in, $361 million comes out). Book of Eli cost $80 million to make, and as of January 23, 2010 has grossed $54 million worldwide. Few films reach the $430 million mark, but perhaps $200 million would be enough.
Book of Eli
Edit
The Book of Eli Movie Review
Latest activity
Edit